Design and Manufacturing of Bathtubs for Japanese Inns and Hotels

Ustech Corporation is a manufacturer of baths that offers full support from customers ranging from Japanese Inns, Hotels, all the way to private individuals. We create all types of baths: bathtubs that are placed in guest baths, open-air baths, large public baths, unit baths, shower booths, and the like, all rooted on originally developed plans and designs.
Bathtubs with designs that may be matched
with the scenery, with zero risk for leakages
To commercial establishments, bath leaks are quite a menacing existence. Ustech's made-to-order bathtubs are created to have zero risk for leaks thanks to its structured stainless steel foundation. In addition, we combine the designed wood or stone parts together for the exterior, making it possible to customize even the smallest details--from the size to the way it looks.

As for the process with which we construct our bathtubs: due to the fact that we bring the bathtubs in a completed state straight to the establishment and install it in its designated area, the installation period is noticeably shortened. We are able to manufacture our customer's full order in which the size and shape may be freely designed to one's preference. To date, the largest bathtub we have made into reality was 8 meters in size. (In the event that the bathtub is too big to bring into the building, we adapt to the circumstances by dividing the product into two and connecting them at the actual installation site, etc.)

Installation Merits
Due to the fact that we use highly durable and waterproof stainless steel, there is no danger of leaks and the risks that come with installation in the bathroom are markedly lessened.
Through the accuracy and high precision of the way we create our products, we are able to install the product into the bathroom perfectly without creating any gaps or crevices.
We are able to manufacture bathtubs of all sizes--large or small--and are able to mold them into any complicated form one wishes.
Main Installation Areas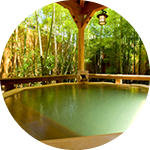 Hot Bath Establishments (Onsen)
Due to our fastidious selection of materials for our bathtub's inner and outer structures that cater to the needs of bathtubs that make use of hot spring water, we are proud to say that we have provided our services to a great number of hot bath establishments to date.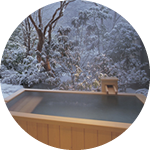 Open Air Bath
We are able to install all types of bathtubs for open air baths, and one may freely draw up the size and design as one wishes, from the large sizes that are demanded of public baths, to even the smaller sizes that are placed in guest rooms. Although the Japanese inn's branding comes hugely from the design of its open air bath, another important point is how well it is maintained--something that our bathtubs try to make easier for our customers.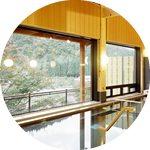 Large Public Bath
We introduce a type of bathtub that even considering its large size, there is no worry of leaks. Thanks to the separation of the internal and external structures with the way our bathtubs are made, even the popular Japanese cypress bathtubs are easier to maintain overtime, and may easily have parts replaced.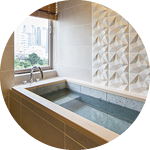 Guestroom Bathtub
We also manufacture indoor baths, unit baths, and shower booths for individual guestrooms. We provide the service of raising the value of an institution using our high quality and exquisite Japanese-stye WABURO series.
Guide to Products Made for Japanese Inns and Hotels